(I am participating in the Writing Contest: You Are Enough, hosted by PositiveWriter.)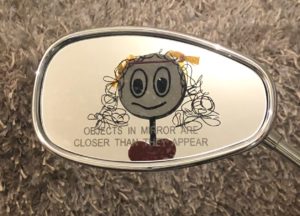 Not only are you enough, I too am enough. If I can be enough, so can you. If being enough is possible, it can be a reality for anybody.
Thoughts are powerful, and if I believe I can do something, no matter what it is, I will at least try. If I think I can host an impressive dinner party, I will look at my calendar, think about a menu, and write down names of friends I would invite. Believing I can pull it off is the first step in planning, envisioning the fun, and beginning the logistics. Without thinking I can, my desire dies in the wishing phase.
It honestly doesn't matter if I believe you are enough, or if the president, your mother, and your boss think you are enough. The responsibility lies with YOU. Unless YOU think you are enough, you aren't.
Do you believe the positive things people say about your writing? "Your opening sentence is powerful!" "I feel emotion when I read your words." "Your research is impressive."
I have a file on my laptop called Credits. When someone speaks or writes something sweet about my writing, I add it to my Credits file along with the contributing name and date. When I get discouraged, or wonder if I have any skill at all, I review my Credits file. It gives me a cozy boost.
Being enough is not synonymous with being perfect.
Being enough is anything above a five on a scale of one to ten; ten being the greatest, and one being despicable. Enough offers a challenge for improvement, growth, and knowledge. It is better than being the best because, with enough, you reach for a vision, a goal, and an ideal. Besides, a perfect ten is not possible. Being enough is realistic and doable. It is attainable if you regularly give yourself a few pats on the back.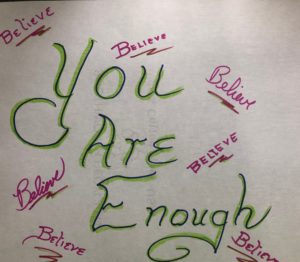 Being enough increases with success history. The more you succeed, the more confidence you grow, and the more enough you become. 
Every day, get your butt off the sofa, your head out of the doldrums, and write. Write until you purged every topic you love, every emotion you feel, and details of every person you admire or despise. Write a blog, contribute to newspapers and magazines, give stories as birthday gifts, join a writers group, and write fiction, nonfiction, and poetry. Write till it's right.
If you do that, being enough won't enter your brain, you will be too busy being more than enough.
Until the next time: Live while you live