---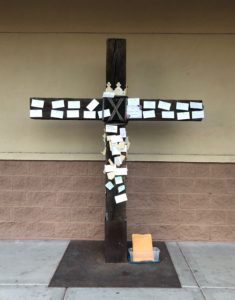 I enjoy the breadth of art and the creative eye of artists. One of my favorite activities is visiting galleries, especially when artists are demonstrating and willing to visit. Public art is included in my list of favorites.
Examples of public art: Mount Rushmore, Big Blue Bear at the Convention Center in Denver, the Mustang at DIA, Brad Ray's tree sculptures and Nate Laybourn's murals in Sterling, CO, Melinda Marlow's murals in Raton, NM, and painted utility boxes in Estes Park, CO. Public art is one reason I love to travel. I enjoy it from tiny towns through large cities. Kudos to all supporters of artistic conversations.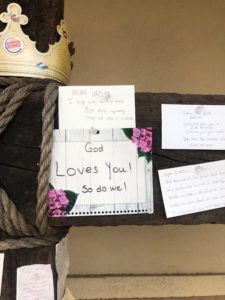 Last week, while driving through a strip mall parking lot, a large cross caught my eye. I turned the car around to check it out. I don't know who sponsored it, and it likely didn't have to pass a review board, but it was art—public art.
I would guess a church group deserved the credit, but nobody was excluded from its mission to provide a means to pray. Paper and pencils provided, allowed passersby to tack personal needs anonymously to the wooden structure. I spotted no disrespectful or inappropriate words, and the cross granted a contemplated, spiritual moment as I stood in its shadow.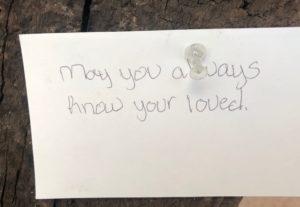 I lost time as I read the notes and thought about the people who constructed and erected the mighty emblem. The shared prayers covered an array of gratitudes, penmanships, and worries. I imagined the cross gently hugging each author.
I thought of the power and meaning behind one universal shape, the cross. This one was inconspicuous and did not shout; it only invited. It was grandiose yet gentle. It was overpowering yet silent.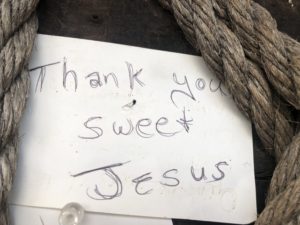 Public art comes not only from the famous but from any person or group who has a vision and a calling to share.
Stop and enjoy public art. It is almost always free.