I kissed my husband and gave him a gentle hug, and they rolled him into surgery. The doctor said, "He's going to happy hour, and you're going to the torture chamber." Everyone laughed, but it wasn't funny. It was true. For the next seven hours and fifteen minutes, I sat in the surgical waiting room. Watching. Listening. Thinking. Waiting.
Before continuing, my husband is okay. He came through surgery like a champion. Cal had a brain tumor above his left eye. We had watched it for over three years on MRI's, and the neurologist always thought it was not malignant but should come out while he was healthy. August 10th was the chosen date.
The worry and fear of all the possible horrible outcomes engulfed me as I watched thirty plus couples walk into the surgical waiting room together. One would be called to go through the big swinging doors the other was left to wait for the good or bad news.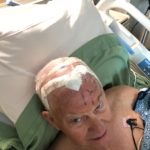 Some, like me, looked as though they were barely breathing, some, unlike me, had friends and family to laugh and visit with while the hours passed. I sat with my computer and wrote. Although unfocused, I was thankful for my overactive brain to be occupied.
One by one, the people waiting would be called into a side room. Nobody had to share the doctor's verdict; their faces told all.

Five hours and fifteen minutes after I walked away from my husband and left him in the hands of strangers, they called me into the small room. The doctor said, "He truly is hard-headed!" He explained the tumor had calcified and had likely been there for years. They had to use a drill and chisel to get it out. Although challenging, the surgery was successful, and I could visit him in recovery within two hours.
Seeing him in recovery was the first and last time he complained of a headache. He was released from the hospital the following day with Tylenol for pain. Other than his shaved head, he was and is doing awesome, and I am a recovering wreck.
His surgery was not about me, at all, but it is an excellent example of how every story has two sides. I too have had major surgeries, and I choose happy hour over the torture chamber any day. I guess I like la la land better than reality.
Until the next time: Live while you live