Written By:
Zella
From:
AZ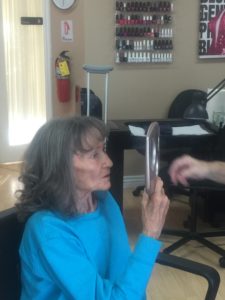 After a fun day of shopping and a new hairdo, and while having dinner, I asked my sister, Zella, to tell me another story, she paused, looked at me, and began:
My life hasn't been all that eventful lately unless you want to talk about the rehab center, and that's over. I lived through it. She was in a rehabilitation facility after an ankle wound skin graft.
Some days I wondered if I would get out of there. After the first four or five days – I was ready to go to another center, I called them and everything. The driver was just taking me to the main hospital so they could change the ankle bandage and make sure the wound vac was working correctly. I didn't know he wouldn't get paid if he didn't take me back to the rehab center. So, I went back.
I stuck it out for three weeks until my sister came and rescued me. She brought me avocados and little crackers, and prunes. I made room in a drawer for what she brought me because the food in the center was – I couldn't eat it.
They lied to me about having a vegetarian diet choice. The cook's idea of a vegetarian lunch was a greasy, salty grilled cheese sandwich that fell apart if I just picked up the corner with my fork.
Sometimes they would bring me scrambled eggs for lunch with so much salt I couldn't eat it. I lost eight pounds, and I didn't have eight pounds to lose. That is an understatement.
They kept trying to give me physical therapy even though I wasn't allowed to have physical therapy because I had to keep my foot elevated – never to be down. I couldn't even get out of bed to use the bathroom. They bugged me and bugged me to do what the doctors said not to do, and called me unreasonable and irresponsible.
It was awful. Thank God for the TV, and the cool young people who were the nurse's aides; they would come in and try to cheer me up.
They were trying to tell me I had to stay longer, and I said, "I don't think so!" To get out I needed my doctor's orders, and I finally got them. They didn't keep me there because of the antibiotic they were giving me; I was allergic to it. And they gave me eight pills, twice a day, and that was too many pills for anyone to be taking. They should have been able to inform me every pill I was taking. They would just say, "Doctor's orders!"
I would say, "Whose doctors. Not my doctor!"
They wouldn't leave the room until I had swallowed them all.
When they had me in diapers, it would take 45 minutes or an hour for someone to help me. It was hell's rehab! It was a real-life nightmare!
I was suppose to have two nebulizer treatments a day, and in three weeks, they gave me three total. They sent me home with the rest of the caplets so I could do it myself.
It has been a year since the rehab center from hell. Sometimes it feels like it was only a bad dream and didn't happen. I still have bad dreams about it. I get scared when they want to take me to the hospital. I say, "No, oh no! No!" It is like I know I need surgery, but my first question is, "Is it out-patient?"
The center I was in was like a horror chamber. I'm just so glad it's over, and I lived to talk about it with a positive attitude that it will never happen again!
Just getting rid of the memories is cathartic, and clearly necessary to not be afraid.
The kids that work there are overworked and thank God they won't be there their whole lives. They are just teenagers.
I learned so much, and I just try to look at the positive. I've experienced the very worse. I didn't have the choice to choose. The clinic staff just did it. I learned to do more research before I get talked into anything. My Doctor had no idea what a terrible place it was. There are so many rehab centers anymore, and many are owed by the same creepy people. 
I told my sister Vicky I had to get out of there or go crazy. They would not let me talk to her or my older sister. They wouldn't give any information on how I was doing. I was a prisoner.
So she came and took me away. It took forty-five minutes to an hour to check me out, but I was sitting right there in my wheelchair as they did all the paperwork.
Vicky drove me home, and my house had been ransacked; it had been turned upside down and robbed. (Another story for another time.)
I'm still putting my house back together, and cleaning it up. It is a lot better than what it was because I got rid of a lot of stuff. I was so glad to be home. I was supposed to stay off my feet, which I wasn't doing. But, nobody else could put it back together. (And, she stopped talking – hopefully it was truly the end of her traumatic experience.)
Dr J's Comments
A traumatic experience in a rehab center told by a country girl who values her independence and is accustomed to making decisions for herself.