Written By:
Trina
From:
CO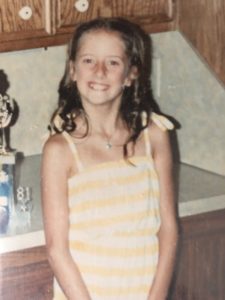 Raised on a farm was the best way a kid could grow up. I loved animals.  I had twenty-four cats, an outside dog, inside poodle, a goat named Lucy, a horse named Bally, cows, chickens, geese, and an occasional rabbit we would catch.
Every day I was able to see my grandpa and grandma, with my dad, for coffee. I could also ride the three-wheeler whenever I wanted.
I learned how to bake with my mom, cook with grandma, and sew with Granny. I will cherish those memories forever.
Snowstorms were the best; my brother and I would create tunnels through the snow drifts, and we got to skip school because we couldn't get out of the yard.
Wheat harvest was always a highlight of the summer. Everyone would work together to accomplish something great.
Being thirty miles from town was sometimes a drag, but now I realize I learned how to entertain myself, be organized, plan ahead, be creative, and go with the flow; for all these things I am thankful.
I remember watching fireworks, thirty miles away while sitting on the roof of the horse trailer.  The fireworks were about an inch tall, way off in the distance.
I always loved calving season because there was nothing better than feeding baby calves with a bottle; it was so much fun.
I loved climbing on and making tunnels in hay bales, and also laying on the trampoline to get a suntan. I also loved small town sports because of teamwork and friendships.
Giant family birthdays and Christmas's when cousins would stay for days is a treasured memory.
I would not trade how I was raised.
It made me who I am today. 
Dr J's Comments
I've been neglecting my rural women's stories due to an overly crazy summer, and my  daughter, knowing how I've wanted women to post their stories, sent me a sweet story of her childhood. Thank you Trina! Your story is pure, and such a great example of the value and privilege of  being raised on a farm. Touches my heart! The picture you chose for your story makes me smile all over:) Is she cute or what?