Written By:
Mary
From:
CO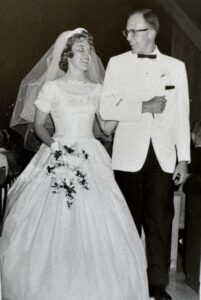 I was named Mary Christina after my dad's first mother-in-law and grew up in Greeley, CO. Because you didn't stay in the same town to go to school, I attended Colorado State University in Ft. Collins, 33 miles from home, and drove a 1953 Plymouth. Tuition was $60.00 a semester. A $400.00 check covered all my expenses. I studied Home Economics and Secondary Education. I hated student teaching and decided there had to be an easier way to make a living.
 I didn't apply but was selected to be an Aggie Angel and affiliated with the ROTC (Air Force Reserve Officers' Training Corps). We were honorary Captains and saluted by the guys when we were in uniform—handsome blue-grey wool fitted suits with nylons and black pumps. We were cute.
As a sophomore, I was a member of SPURS (Service, Patriotism, Unity, Responsibility, and Sacrifice). and escorted the University President, William (Bill) Morgan, onto the football field.
Some of my Tri Delta friends had a group date, and we went to a dance where you drink beer. I didn't drink beer because I was a good Baptist girl. I'm a good Presbyterian girl now. Paul was part of the group date. He was a good dance partner, but neither considered getting together again. No sparks!
In the spring quarter of our junior year, Paul and I were elected Presidents of our respective houses.
He thought, "Oh, maybe I missed something; she is President, too!" Fate further intervened when we both attended the same Sociology class called "The Family." He was a handsome Joe College in khakis and a dress shirt with sleeves rolled up. I suggested to Barb, one of my sorority sisters, that she arrange a double date since she was dating a popular Sigma Phi Epsilon.
In the spring of 1959, a pledge and I went to the Cave in the Student Union. Sitting with a friend, Paul turned toward us, straddling his chair, and talked to us the whole time. It must have been my ROTC uniform. After, I told Barb to forget the double date, I knew he would ask me out. A couple of days later, he called to see if I wanted to go to a lecture by Helga Sandburg, the oldest daughter of Carl Sandburg. She wrote Wheel of Earth. I bought Paul a copy a year later to commemorate our first date— April 4, 1959.
We began dating, and that was it.
As a senior, I was tapped into T.I.O, which became Mortar Board, the premier national honor society recognizing college seniors for superior achievement in scholarship, leadership and service.
I was also Pinned in my senior year, Paul and I planned to marry in September.
When a man gives his fraternity pin to a sorority woman, he signifies he wants them to remain in a serious relationship. It was supposed to be a secret, so I pinned the pin on my bra until Paul and his fraternity brothers serenaded me from the lawn. For the serenade, my sorority sisters formed a semi-circle with me and the housemother in the center of our large patio facing the fraternity brothers on the lawn. Paul was escorted inside when they finished as his brothers lined up to kiss me.
 After pinning and before an engagement ring, the sorority house provided a candle ceremony conducted during the formal Monday night meeting. The girls would sit in a circle around the living room floor and, with lights dimmed, would pass a lighted candle until the newly engaged held it and blew it out. When the lights came up, everyone swarmed the honoree, and a five-pound box of chocolates was passed. It was a big deal.
Nancy and I wanted to share the ceremony. Since we both needed a ring before the ceremony, Nancy thought we should all go downtown Fort Collins and buy rings. When I told Paul, he said, "Nancy might lead Ted around by the nose, but I will decide where I buy your ring and when I do it."
The candle ceremony didn't happen for me because Paul decided to get me a ring after I graduated. Mother and I were not happy that I wouldn't get to pass a candle and she wouldn't be purchasing chocolates to announce my engagement. Sad day.
Paul had to work on the ranch the summer before our wedding, and on our last day of school, we came to Sterling to buy our rings. I didn't know anything about diamonds. The owner of Hedrick Jewelers brought out three diamonds and laid them on a little velvet cloth, and I chose the biggest one. I didn't know to do anything else. It was $500.00, which was a lot of money back then. He must have been in love.
When the ring arrived, Paul intended to keep it at the ranch, but he couldn't stand it, so he came to Greeley one night. He stopped under a streetlight and said, "This isn't an appropriate way to give this to you, but here."
It looked gorgeous under the streetlight.
Gas was 25 cents a gallon, and Paul drove a late model Chevy with a strip of chrome missing on the passenger side. I thought that was tacky. When I told a friend, she said, "Well, at least he's not ostentatious."
I was honored at a series of bridal showers. Mother hosted a Trousseau Tea at our home. The tea table was adorned with a beige lace tablecloth and yellow and gold chrysanthemums–my wedding colors. According to the Greeley Tribune, fifty guests attended.
We were married on September 11, 1960, in a formal wedding at Hillside Baptist Church in Greeley. After the wedding, my going away suit dress, which I bought at The Denver Dry Goods Company, was gray-green and a size nine. I had matching suede shoes, a beige cloche (klōSH), and gloves. Paul went to the garage, where he hid the car. His best man, Frank, drove me to meet up with Paul from the wedding. On the way, friends stopped the car and said, "Open the door." They were planning on stealing me, a common practice of the day. I said, "Oh, no, no—not me."
We stopped at a lovely restaurant for dinner on South Colorado Boulevard in Denver on our honeymoon. When we finished dinner, Paul left the table. He returned and said, "I called the Shirley Savoy, and they wanted $17.00 for the bridal suite. I'm not paying that!" So, our first night was at a cheap motel on the way to Colorado Springs. I learned this guy pinches pennies.
Paul still had an extra semester at CSU, and I found a job with Fishback's Photography at $1.00 an hour. The former owner, Mrs. Rouse, tinted portraits as there were no color photos then. She was a sweet lady and gave me recipes. Another employee made our Christmas cards from a picture of us walking up the aisle after marriage.
Not long after that, Paul asked me where my money was. I said, "What money? Did you see the clothes I wore on our honeymoon?"
No one ever told me to keep money in the bank.
We just celebrated our 63rd wedding anniversary.
Dr J's Comments