Written By:
Louise
From:
CO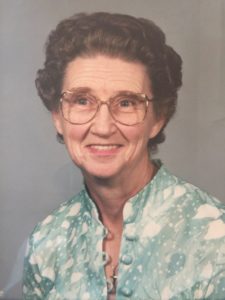 I graduated in 1946 and began teaching at Victory School (called Fight School before WW11). School opening was delayed until October because it was the year Polio was so bad. I had whooping cough the first year as did many of the students. The board wanted to close the school, but I told them we all had it, so why not go to school. We just had a whooping good time.
I was warned about Ivan, an ornery boy my sister-in-law had taught. The first day of school four first grade girls was walking around the corner of the building, and he ran them over with his bicycle. I called him in and he had the look of wanting a good fight. I said to him, "I saw the whole thing, and you did not do that on purpose. It was not your fault. I was wondering if I could count on you to help me with the girls this year?" He never gave me any trouble. In fact, he told his mom years later, "Miss Graves was the best teacher I ever had!"
My first husband Carl was a liar. After twelve years of marriage, he came home and said he had another woman in Missouri, she was pregnant, and he wanted a divorce. I never did think positive about myself, and his news made me more negative. I was very depressed, and I stopped at a friend's house. I was crying, and she asked me what I needed. I told her I needed a drink of water, and she said, "You need the Lord!"  She took me inside and prayed for me, and from that moment to this day; I have a different outlook.
When we went to the attorney for a divorce, Carl said I abused him. The lawyer looked at his 300 pound frame and my 110 pounds, and said, "She abused you?"
Carl married Henrietta. She and I became friends. He lied to her too, and I helped her get her stuff out of his house when she divorced him. I learned his story about her being pregnant was also not true.
I can't remember my parents ever hugging me, but since I became a Christian, I get a lot of hugs. It took me a while to get used to hugs.
My second husband Ray Ten Eyck was a hobo. He could not stay home. I called him my wild goose; he would leave in the Spring and again in the Fall. His mom said he was eight when he first ran away from home. He was a wonderful person when he was sober. In 1973 he left and never came back. He kept in touch for a year or two, and I thought every day he might walk through the door. In 1988, I went to check on how much Social Security I would get, and they looked up his name. The lady said, "Well, he's dead!" I almost passed out then and there. He had been dead five to six months. An attorney friend in Sterling helped me get his death certificate and didn't charge me anything.
I didn't know how I was going to pay for my house, and attorney Frank Allen in Akron bought my mortgage, and I made payments to him. When I thought I could pay him off, I went to his office to see how much I owed, and he told me my balance, but he didn't charge any interest.
For a living all those forty years, I did housework for many families.
Today I own my home, I don't need to clean houses anymore, and being a Christian is the best thing in my life.
Written on 6-13-16
Dr J's Comments
Here is more of Louise's touching and entertaining story. She is SO cute, inside and out. As you can see in the picture, she has dynamic eyes that sparkle with a whole lot of mischief. She has a story for every piece of furniture in her house, and a joke to fit most situations. Like all of us, she is a historical-fiction waiting to be written. Enjoy!