Written By:
Mary
From:
AZ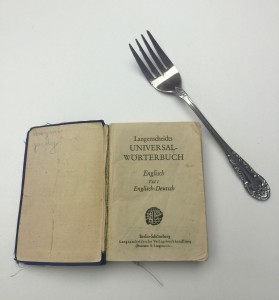 I did see my mother again. I found her and brought her into my home, but she had lost her mind, and I had to admit her to an institution. I never heard what happened to my father.
In Breslau, I lived on the fifth floor of an abandoned building. I also had a friend. She lived on the second floor of a different building, and when I wanted to see her, I stood on the street and I yelled, "Dora! Dora!," so she could open the door. That is how I met Fritz Jacoby; he saw me from his window. He lived in the same building
He lived with his mother, and one day she met me on the stairs and asked if I would like to come for cake. I was always hungry, so I eagerly said, "Yes." Later, she said her son wanted to meet me and asked if I would come to dinner. Again, from hunger, I said, "Yes."
Fritz and I had so much in common, and we talked for hours. He had it much worse than I did, and we were each other's therapists. We openly talked with each other. We never thought of each other as a woman and a man.
One day he said, "Marry me." I said, "What did you say?" He said, "I want you to marry me. Don't tell me now, tell me tomorrow."
I told Dora's mother Fritz asked me to marry him, and she said, "What are you going to do? You have nothing, and you have no one. You have no education and he is a good man, he will take care of you."
The next day, I told him yes. He took a deep breath, wrapped his arms around me, and kissed me for the first time. He proposed in September, and we married in December. A Jewish organization, who had sort of a Rabbi, married us. I had no gown, but Fritz knew a tailor. He had navy blue wool material, and made me a little dress. I was seventeen and Fritz was four years older.
My own, was the only Jewish wedding I had been to, and it was a big deal; Orthodox.
Germany didn't honor the Ketubah, the marriage certificate from our wedding, and we had to be married again by the Justice of the Peace.
An organization called World ORT helped us get education. Fritz, who knew six languages, didn't need an education, but he needed a career. He trained to be a dentist.
In 1957, when Alfred, our oldest, was six, and Helen, our daughter, was four, the four of us, along with sixty-four other refugees left Munich on a plane for the United States. Alfred and I were so sick, the plane had continual engine trouble, but we landed safely in the Kansas City area.
Before we could leave Germany, we were examined from our toenails to our hair. We had to be healthy. My mother-in-law, even though she was healthy, had a scar on her lungs, and she was not allowed to accompany us. Fritz contacted President Eisenhower and within three years, she joined our family.
The Jewish organization, JDC or JOINT, helped us. We were called DP's, Displaced Person's, and JOINT took care of refugees. Because of the thoroughly complete physical exams in Germany, we were not required to pass through Ellis Island.
In America, we had two more sons; George and Michael.
Fritz did not want me to work. He said, "I am the bread winner. You will not work." I did not like him telling me I could not work. When he left the house, I dressed up, went to Macy's, and applied for a job. They asked if I would work in the credit department and I excitedly said, "Yes." My husband was not happy and made me promise the kids and the house would be well taken care of, just like always.
I started in credit at Macy's and advanced to accounts payable. I always gave my paycheck to my husband. We were not separate; we worked as one. Unlike today.
I didn't play much with the kids, I worked. I had four children, a house, and my mother-in-law lived with us. She cared for the children while I worked. Fritz did nothing in the house. He wouldn't have known where to find a glass. I didn't like yard work, and Fritz kept the outside mowed and looking good. We both believed everything had a place, and everything belonged in its place. 
Other than the house and one car, we never bought anything on credit. After the last payment on the car, Fritz figured what the car cost, with interest, and we never bought another thing on credit. I have money today because we didn't buy something unless we could pay cash, and we saved dollars from every paycheck.
We were married sixty-two years.We have nine grandchildren and five great-grandchildren. We had good friends and loved to party. We had fun. He was a flirt, but I trusted him, and he trusted me. It was good.
He passed in 2007.
Written 4-19-2016
Dr J's Comments
The last half of her, hopefully, first story. A story needing to be told, and we've only just begun. The picture is a little translation book she said she nearly wore out when she came to America. Her husband knew six languages, and she only knew German. A treasure of a woman.