Written By:
Esther
From:
CO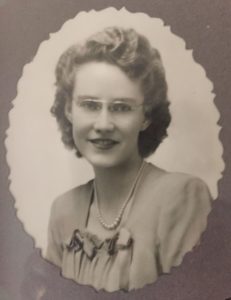 I grew up on a farm thirty miles south of Akron, CO. I had one younger sister. I had an older brother who died when he was six months old. He had a little cold, and my mom put him down for a nap. When she went in to check on him, he was gone. Maybe it was what they call crib death today.
My mom didn't know how to drive until my sister and I married. I guess my dad taught her. I remember the story of my dad driving a tractor thirty miles to town to have it repaired at Yeaman's where he bought the tractor. My mother was following him. When he got to the store, she was not behind him. He went to look for her, and she had stopped outside town. She was afraid to drive into town.
My grandpa died when my dad was ten years old. He had a cerebral hemorrhage; a blood vessel swelled and burst in his head. Several in the family died from the same thing. My dad then had to work at a sheep camp. He took the sheep out in the morning to the grass, watched them all day long, and then brought them into wooded corrals at night. Sometimes he would be left there for weeks all by himself. He was so young to be all alone with such responsibility.
My grandmother never remarried. She took all seven kids and homesteaded a mile west of where I grew up. 
My sister and I made our entertainment. We didn't have many toys. Mom would give us her old catalogs, and we could cut out people out clothes. That was our paper dolls. What we got we ordered out from Montgomery Ward catalogs. Mom sewed our clothes and would order whatever yards she needed from the catalog. Mom had a treadle machine, probably a Singer.
We didn't wear pants very much; mostly skirts and blouses. I liked the clothes my mom made us. We didn't know any different. I remember when friends started wearing pants. Mom said we could have some but not to let Grandma see us wearing them.
I went to school one mile east and a mile and three-quarter north of our house. The school was called Golden Rod. It was on the northwest pasture corner of what was called a School Section; a section of public land set apart in a surveyed township by the U.S. government for the maintenance of public schools. There were two schools in the district. The other was a couple of miles East of Ralph Jesse's. My sister and I each rode a horse to school. It was okay, but after a while, you got tired of doing things like that. But, some people had to walk, I guess they didn't have a horse. Akron governed all the little schools. (Lindon, Woodrow, Akron, Cope). There was a roller skating rink West on the baseline near Rago. Kids from all the small schools would go there on Sundays. We would stay for both the afternoon and evening sessions. Many kids would travel together. Wilbur Ruhaak could drive, and he used my folk's car to take us. In those days we didn't have to have a driver's license. I suppose we should have. My sister met her future husband on one of the skating Sundays, and she married first.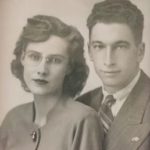 In 1946 I married Elburn Guy. I was twenty-three. We went to high school together. I was a freshman when he was a senior. Then he went to the service. I wasn't even interested in him. He came around after the service, and we started dating. In those days kids didn't go to college. Marrying your neighbor was common. We didn't know anybody in another state. My daughter Colleen married someone who lived away, and that was unusual.
We went to the Methodist parsonage in Fort Morgan and got married. Ruth (sister) and Wayne (Ruth's husband) were there with us. For our honeymoon, we spent part of a week, and we ran out of things to do, so we came home. We went to the Garden of the Gods and Cave of the winds. In the caves, it was getting dark, and I got nervous that they were going to leave us in there. I didn't like it much.
Before we were married, Elburn bought some ground to the north and east of my parents and built a cinder block garage. He was always going to build a house, but it didn't happen. In the garage, which was quite small, we had two bedrooms, a tiny kitchen, and living room. Later we built a kitchen on the south of it with a basement under it.
We lived there until Marlene (second daughter) was in the first grade. She didn't get to go to kindergarten because we had a big blizzard and could not get into town to register her for school. Mrs. Cooley was the Principal, and she wouldn't let her start a week late. I guess she went by the rules. So, Marlene didn't go to kindergarten. Geraldine (first born daughter) was in the fourth grade. We drove the school bus. We lived four miles from High Prairie School (Sampson school consolidated), but she had to ride the bus for twenty-five miles. We moved to town, so the girls didn't have to ride those miles every day.
In town, we first rented in a little house of Jack McMillion's on Fremont. Then, Elburn helped his folks build their house, and we lived in their basement. He then built our home.
Somebody younger probably wouldn't believe me; would think I was a storyteller. They couldn't imagine not having a bathroom or running water. I didn't have either until I moved into town. We took baths in a washtub. Whoever got there first got clean water and the second one got used water.  We had to carry the water into the house and heat it on the stove. I imagine after we went to bed the folks took one too.
It was normal in those days.                                                      (Written 9-3-2018)
**********
Sweet Esther passed November 02, 2019
Esther May Guy December 24, 1923 – November 02, 2019
Esther May Ruhaak Guy, 95, passed away peacefully on Saturday, November 2, 2019, at the Washington County Nursing Home surrounded by her family.  Esther was born at home on December 24, 1923, to Alfred Henry and Fay Jefferson Ruhaak.  She was a wife, mother, sister, aunt, grandmother, great grandmother, and a member of the Washington County community her entire life.
Esther, her parents, and her younger sister, Ruth, lived with her parents on a farm south of Akron. Her parents raised Hereford cattle and feed.  They also milked 10 cows and sold the cream and eggs for extra money.  Esther and Ruth were best friends and often dressed alike, even in their teen and young adult lives.
She attended Golden Rod primary school and graduated from High Prairie School.  After graduation, Esther obtained a teaching license.  She taught one year at Golden Rod and another year south of Cope.  During World War II Esther and Ruth moved to Long Beach, California.  Esther supported the wartime efforts working on military aircraft at the Douglas Aircraft Company.  She met Elburn Guy in high school and when he returned from the war, they courted and were married on October 19, 1946.  To this union three daughters, Geraldine, Marlene, and Colleen were born. Esther, Elburn, and the girls lived and worked on their farm south of Akron.  In 1959 Esther and Elburn bought a property and together built a home in Akron.  It was a Guy family project as Elburn's brothers assisted with the construction and Esther sanded and varnished every door and baseboard.
Esther was a master seamstress and took great pride in creating uniforms, costumes, prom dresses, and clothing for the entire family.  Esther and Elburn enjoyed square dancing for over 40 years and you could always count on her dress and his shirt matching as she constructed them all.  She enjoyed teaching her daughters to sew and tailor, helping each of them make their wedding dresses.  They traveled nationally square dancing and were members of the 085 Mobile Squares and the High Plains Drifters.  Upon their retirement, they enjoyed traveling, playing golf, and spending winters in Arizona.  Esther and Elburn were very proud of the children, grandchildren, and great-grandchildren.
Elburn passed away in 1991.
Esther is survived by her daughters, Geri Blackwelder (John) of Ault, Marlene Kuntz (Terry) of Otis, and Colleen Peppler (Kent) of Mead, her grandchildren, Jason Pachner (Dana), Kimberly Burnett (Jeff), Jarod Pachner (Tanja), Todd Blackwelder(Janet), Sarah Willits (Brendan), Brian Kuntz (Annie), Angie Hernandez, Jolene Kirkwood (Randy), Ashley Charnetski (Sam), and Tyson Peppler, and Brother-in-law, Milford Guy (Anna).  Esther was also blessed with 24 great-grandchildren and a host of nieces, nephews, and cousins.  She was also blessed with great friends and caregivers at the Washington County Nursing Home.  A Memorial service will be held Thursday, November 7, 2019, at 11:00 a.m. at the Presbyterian Church in Akron with lunch for all following at the Washington County Event Center.   Memorials may be given to the Washington County Nursing Home Memorial Fund.
Dr J's Comments
As with my last post of Helen's story, Esther is the mother of my good friend. It was such a pleasure and privilege to be the recipient of their time and trust.
I love, love, love my retirement hobby.
My initial goal in writing rural women's stories was to encourage women think about, value, and write their stories. To get started. We all have millions of stories and we can tell them better and more accurately.
But, I found most women do not want to write their stories, but they will tell their stories. So, I became the listener and writer. It is so fun for me to sit with rural women and enjoy their unique words, the sparkle  in their eyes, and the experiences they remember as they begin to speak. At ninety-three and ninety-five, what they hold in their memories and share with me must be treasured events.