Written By:
Trina
From:
CO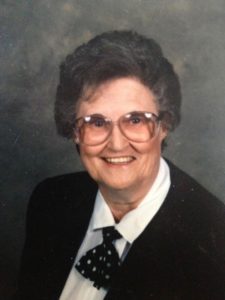 "Well, good night nurse!"
"Well, for peat's sake!"
My grandma had a twinkle in her eye, and she added joy to our lives.  I have treasured childhood memories of grandma, most of them funny because that is how she was.  She told embarrassing stories about herself. She was a great storyteller.
Like the time she swerved to miss hitting a cat, with the car ending up on the side the neighbor's barn.
My first memory of being at her house happened, seemingly, every morning when we would go to grandma's for coffee.  She would cook bacon, eggs, and toast.  I would run and jump in bed with grandpa, and we would lay there and giggle for awhile.  Pretty soon grandpa would holler and say, "Charlie, the big wheel is ready for breakfast". 
Grandma was always taking care of people.  I can't remember a time she didn't offer me a glass of pink lemonade or frozen Reese's Pieces.  Although, I knew never to expect that kind of service while The Price is Right was on TV.    
Grandma loved to go places.  A couple of times she was so excited to leave she forgot to open the garage door before she backed out. 
Grandma loved to travel. She visited her kids in other states and went to places around the world she had never seen.  She loved Vegas.  I have never known anyone as lucky as Grandma at the slot machines.
She also loved bowling. I think it was more the friends she made than the actual game.  I recently looked through her state bowling photo album, and I think there was a lot more going on there than just bowling – It was evident she cherished the people.
I remember watching grandma and grandpa dance so beautifully together at The Homestead restaurant.  Even though it had been nearly 25 years since he passed, she still sighed like a school girl when we talked about him. 
She was a sharp dresser and took great pride in how she and her home looked.  Her huge yard was a constant thorn in her side because no matter how much she sprayed those dandelions, she would miss one.  I can safely say that she hated dandelions.
I have saved my favorite memory of Grandma for last.   The last couple of years, my 6-year-old daughter, Paisly, and had so much fun visiting grandma at the nursing home.  We had a bit of a ritual.  First, we would talk for a while, and before we knew it, Paisly would crawl up on the bed with her.  They would snuggle and ask each other questions. If you had your eyes closed, you would swear that two little girls were talking, like they were best friends.  Grandma got down on my daughters level, and they had an absolute ball.  Sometimes we would paint their fingernails, sometimes they would sing little songs, sometimes they would look through pictures.  No matter what they were doing, it is a priceless memory I will cherish forever. 
Grandma, thank you for being a wonderful part of my life.  I love you, and I miss you already.
Dr J's Comments
Thank you Trina for this sweet tribute to Grandma, Lois Marguerite Farley-Niebur, at her funeral in 2008. Grandma Lois was truly was a sweet, funny, loving, and giving person. We are all lucky to have had her in our lives.
I remember she and I were always the "gate" when we worked cattle. Grandpa Val rode the horse, Silver. Monty was walking with a whip, pushing cows and calves toward the "gate." Lois and I knew where we fell in the pecking order.
She and I stuck together through floods, dirt storms, hail, harvest, getting to town, and yes, dandelions. Bless her soul! She taught me how to be a farm wife.