Written By:
Jennifer
From:
CO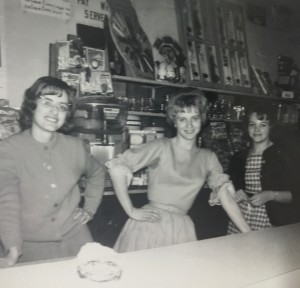 The summer before my sophomore year at Akron High School, when I was fourteen, I wanted to work at Schafer Drug. I needed money, liked the soda fountain in the store, and knew work was the only sufficient excuse not to go fishing with my family.
I approached the owner/pharmacist, Rollie Schafer, and asked if he was hiring. A man of few words, he said, "No, maybe later." I left, went back the next Tuesday and asked again. He said, "No, maybe later." I'm not sure how many Tuesdays I asked, but he finally hired me.
I was thrilled. I was over-the-top elated.
The salary was $1.19/hour, and I was rich. I loved my job.
Marjorie, or Mrs. Schafer as we called her, stocked the store with jewelry, make-up, greeting cards, and unique knick-knacks for women to buy as bridge prizes. We made our vanilla ice-cream, served green rivers and double chocolate shakes, and our hot fudge sundaes were decadent.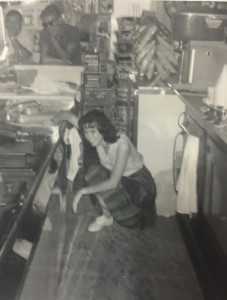 I worked with my good friend Bonnie, as well as Judy, Janice, Becky, Rosalie and others I can't recall. We had a blast. We sold product, made fountain drinks, and kept the shelves stocked. Dusting was not much fun.
Mrs. Schafer had trouble hearing, but she did not miss one word or giggle from the fountain. Every Christmas she gave us exquisite gifts wrapped in elegant boxes she decorated herself. I had never received such extravagance. I saved them for years.
Once, a man came to the register with horse tack, and said, "Charge it." I said, "Okay," as I reached for the charge book, "And your name is…?" Mr. Schafer bolted from behind the pharmacy counter, took over the transaction, and apologized, profusely. I did not know his name, and he was wealthy and prominent. I almost lost my job.
People with money were often given discounts, and the poor were not. An obviously impoverished woman came to the pharmacy with a prescription. Mr. Schafer took a bottle of Milk of Magnesia from the shelf, pasted on a prescription label, and charged the lady more than over-the-counter price. 
Those experiences contributed to my being an advocate for equality. It seemed upside-down to elevate or d
iscount a person based on money. Even as a teenager, it seemed backward, weirdly wrong.
Mrs. Schafer sent Bonnie and me to Denver on Amtrak for Dorothy Gray cosmetic and makeup training. We thought we made the big-times.
My favorite customer was Bill Beebout. He was a WWII vet, worked at the Akron News Reporter, sat at the east end of the counter, and always supported school fundraisers, even buying Football Mums for Homecoming.

I worked for Schafer's throughout high school and summers during college. The experience was major in high school memories. Rollie and Marjorie passed away in 2007, as did my parents.
Tenacity, learned at fourteen by landing my first real job, still serves me well, most of the time.
Working continues to help me avoid what I don't want to do.
Written 4-19-2016
Dr J's Comments
I never know what is going to land on the paper as I write. My picture doesn't fit my story, but it is a collage of high school pictures. Shows how we all looked in the early 60's.