Written By:
Vicky
From:
AZ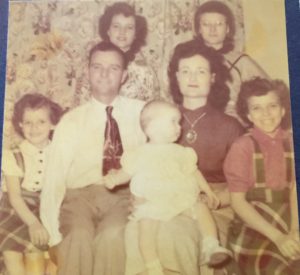 I was born and raised in Akron (population 1,900) on the Colorado Plains. You could see for miles and miles. It was especially beautiful when the wheat was ripe and golden, waving in the wind.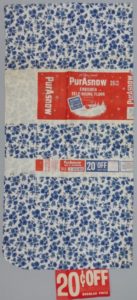 Ranchers and farmers from the county came to town on Saturday for supplies, and it was an exciting bustling time. The kids played in the park, and the families had picnics in the nice green park. After lunch, it was time for the Saturday matinee at the Variety Theater. You could find my sister, Jennifer, and I there almost every Saturday. The show was always westerns in black and white. Mothers shopped for flour in 25# flour sacks and made clothes out of the flower printed sacks. In the meantime, the dads hung out at the two pool halls. I laughed because the country kids thought Akron was the big city.
The biggest event in town was the Washington County fair, parade, and rodeo. Women sewed all year to take their creations to be judged and hoping for a blue ribbon. The 4-H and FFA kids had clothes and livestock also to be judged. I was a 4-H kid with my mother as my leader. I started out with a hand-sewn apron and ended up my last year, making a full-lined wool coat. We had Style Shows to model our creations—not my favorite thing because I was shy and real nervous. The carnival was so much fun, and I loved the rodeos, especially wild bronco riding. 
Yes, I would say life in our little town was ideal. We didn't lock our doors, left keys in the car, and could walk anywhere in town day or night. The show only cost ten cents. Mother would give my little sister and I each a dime, tied up in a handkerchief so we wouldn't lose it while walking to the theater—nine cents for the movie and one cent for candy.  
OurI was blessed with wonderful, talented parents. Daddy designed and built our house with the first picture window in town, built several other houses in town, and remodeled many others. Daddy was also mechanically talented and made anything he imagined—like a garden tractor, motorized bicycle, sled, garden plow, camper out of old school buses, and on and on.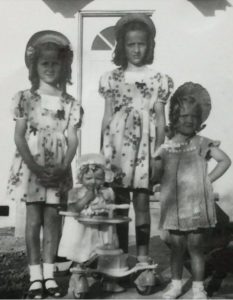 Mother was an expert seamstress and fashion designer. She made all her daughter's clothes—many from what we wanted, and she used very few patterns. My two older sisters were dressed alike, as well as my little sister and I. I was so proud to be dressed alike. (until I turned into a teenager)
Mother made all our curtains and drapes with bedspreads to match. Together, they designed and made gifts and projects from wood, reupholstered our furniture, and on and on. Mother also made all her clothes and shirts for Daddy. She designed and created even my wedding dress and all the bridesmaid's and flower girl's dresses. She also sewed for people in town and made the flag for the Norka (Akron spelled backward) Hotel. She canned a lot from our garden and orchard. If you haven't guessed, I was very proud of my parents and could go on and on praising them.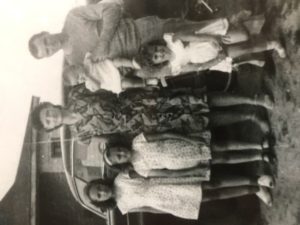 The other huge blessing in my life was my four precious sisters, two older and two younger. They were my best friends, and always there for me. (And still are) We had/have so much fun laughing and giggling. We played house with our dolls, spent endless hours riding the big rocking horse (that Daddy built) lying on the grass and finding figures in the clouds. Sleeping on the grass in the front yard and making snow forts in the winter were the best.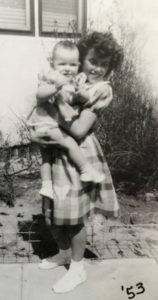 Our baby sister, Patty, was born when I was eight years old, and she was such a blessing to our family and everyone. She was such a joy and so good-natured. She was always smiling, never got mad, and cried very little, except when we sang Happy Birthday to her. Sadly, she left us three years ago and left a hole in our hearts, but we were blessed for sixty-four years of pure joy with her.
I was also blessed with both grandparents living in Akron, along with many cousins, aunts, and uncles. We all got together for Thanksgiving and Christmas. Those were happy times playing with my cousins. Both of my great grandparents were also living.
I've tried to make my story as short as possible, but there is so much more I would love to share. I guess I'll have to write a book. In short—I had the best childhood ever. Oh yeah, that is the title of my story.
Dr J's Comments