Bisbee, AZ, south east of Tucson, is a delightful former copper mining town diligently trying to reinvent itself into an artsy, intellectual destination. Homes, once called miner's shacks, are built on the side of hills and offer delights for architects and renovators. The main street, Tombstone Canyon, with its century old charm offers the finest in dining, shopping, and art.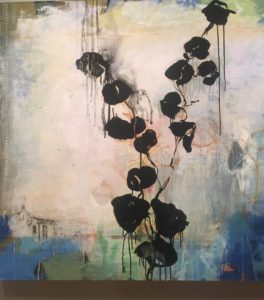 Sam Poe Gallery is one of the many enchanting stores offering a diverse selection of local talent. Sam Woolcott, and Poe Dismuke, a husband and wife team, own Sam-Poe Gallery. They are transplanted from San Francisco, have lived in Bisbee for fifteen years, operating the gallery for the past decade.
Artists often struggle to make ends meet; Sam and Poe are no exceptions. Feast or famine describes the world of many creative souls. If the economy thrives they live well, and if it is depressed the bills show up too often.
Artists not only have an eye for color, space, and detail, they are powerful sales people. They must emerge from their happy solitary place of creativity, and enter into the extroverted world of art fairs, teaching, and social media, If the stars are shining upon them they will get a big break and hard earned acclaim.
Sam and Poe experienced that serendipitous reward in 2017. University of Arizona curators wandered into their gallery, loved their work, and asked if they would like to exhibit in the main UA gallery. They said, "Yes!" 
That was the beginning of seven frantic weeks, but on July 29, 2017, their whimsical, emotional exhibit opened. My husband, Cal, and I had the honor of attending. I just wanted to be there. I wanted to support their joy and feed my spirit. To see friends glow in their achievement was a real inspiration.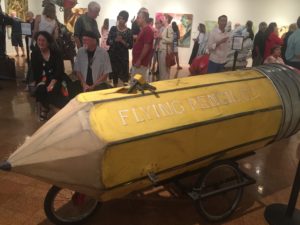 And, their show was awesome. I have always admired Sam and Poe's artistic work, but their radiance made our trip memorable. Many friends from Bisbee were there, and the exhibit was exquisite with professional lighting, strategic displaying of each piece, and Sam and Poe feeling the love.
I felt privileged. I was in my element, surrounded by creativity, class, and talent. How does it get better than that? Welcomed with hugs and gratitude, I reveled in sharing the rewards of their skill and passion. I left with an overflowing heart. 
Congratulations, Sam and Poe!
What have you recently done that reaps your talents or feeds your spirit?
Until the next time: Live while you live!