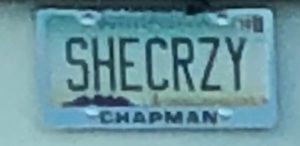 As a kid with four sisters, we used to play the alphabet game when traveling in the car. If you can imagine seven people in one car, one who was always carsick (me) and the others bickering, (a kind word for scratching and kicking), we had to do something civil not to end up walking or getting a switching.
Because of years of competition with my sisters, I am a master at noticing license plates, and they often have the hard letters like X, Y, Z Q, and J. They help me win the game.
If the plates are not benign with only letters and numbers signifying where the car lives, they are personalized. One I liked was in Bisbee, AZ, "UBU IBME" which I thought was good advice.
I don't like to see plates with names, because it could make the driver vulnerable to dishonorable motives from others.
The cost of a personalized plate is not cost prohibitive, but I sometimes wonder what the owner wants others to think of him/her. A license plate is a form of self-advertising. Like social media, why do we put ourselves out there for total strangers to see?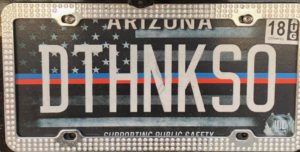 Anyway, they are fun, and they activate my curiosity. Seeing creative ones I need to contemplate their meaning, helps entertain me on long road trips just like when I was a kid.
If I had a personalized license plate, it would be TLYRSTORY.
What would you choose?