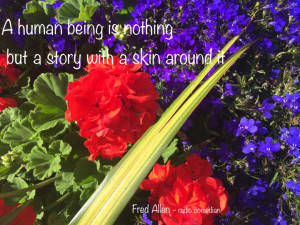 You can think your life is boring or insignificant, but it is YOUR story in the making. Nothing happens that does not contribute to the story line, setting, and plot. Like any good novel, there are ebbs and flows, but always connections to history, past and present characters, and dreams.
Fred Allen, American radio comedian, said, "A human being is nothing but a story with a skin around it." We all are that story.
I encourage everyone to write their story. Others can tell your story from their perspective, but it is not the true you unless you are the one telling or writing.
My first book, My Clients…My Teachers was a book of stories of courageous individuals who reached out for counseling. My second project (in baby stage) is stories about and from rural women – who too are courageous.
As I ask you to write your story, I am also writing mine.
I am here to report it is not easy. I question the value of my experiences. I stress over what events are important milestones, wonder if I am negative or inauthentic, and worry if someone will be offended if I do or do not mention their significance in my life. What if my story is just plain dull?
I write and re-write, add and delete, and set it aside out of frustration. It takes tenacity to conquer this "Story of me."
I do not want you, my readers, to feel frustration, but I do encourage you to write YOUR story. There is value in looking back and prioritizing; exciting events, hard lessons, loves, glory moments, embarrassments, and contributions. Lastly, what did it all mean?  What was learned? What wisdom was gained?
We can ruminate on different aspects of life, but there is great value in having detailed memories on paper. Write everything that comes to mind and edit out what is less important or what is private.
I believe it will be therapeutic for you as well as a treasure for future generations.
Write a page a day or a page a week… gain motivation by envisioning the most interesting book you ever read; YOUR story!
Remember our stories, yours and mine, never end if we pass them on.
Until the next time: Live while you live