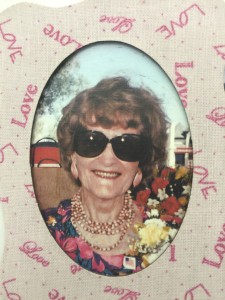 Happy Mother's Day Mother – and Thank YOU!
My remarkable mother died in 2007 at the age of 86, right before Christmas. I miss her. I wish I could again thank her and tell her I love her. I would especially like to give her a hug. Without her parenting and influence I would be a totally different person today.
Her name was Millie, short for Mildred, and she was beautiful, intelligent, and accomplished. Being raised in rural America during the depression she did not graduate from high school; in fact she was married at the age of sixteen. Times were different in the 1930's. She read and studied throughout her entire life; she was far more well-read than many with formal education.
She came from a large family; six brothers and four sisters. Her father was mean and I believe that is one reason she left home when she was so young.
She had six daughters, one who died as an infant, and I was the fifth one. We had a house of hormones. She raised a huge garden and canned hundreds of quarts of fruits, vegetables, jams and jellies. She learned to sew from her mother-in-law and made all of our clothes. We always looked as though we were the wealthiest family in town. I did not have a purchased dress until I was in high school.
She was always in the kitchen either cooking or ironing. One of my older sisters said, "Mother never slept… because she was working when I went to bed and working when I got up."
My mother always made sure we went to church. We must have been a sight marching down the aisle with our pretty dresses and hats. She also made sure we went to Sunday School, sang in the choir, and helped with Vacation Bible School. She wanted us to be involved participants not just observers.
She organized a group for young mothers; for many years she taught and encouraged young women. She sold Necchi sewing machines because she wanted to contribute to the family income. She became a real estate broker and developed her own company.
In later years, she loved pansies. I never see that whimsical flower without thinking of her.
Now that she is gone, I will never have anybody light up, as she did, when I walk into a room. I will never have anybody look at me with the same love and acceptance.
I have always been really proud to call her Mother; a name that shows the respect she earned. I miss her especially on Mother's Day. I love her, appreciated her, and always hold her in high esteem. She loved me unconditionally – what a gift.
What is your mother's story?
Until the next time: Live while you live!