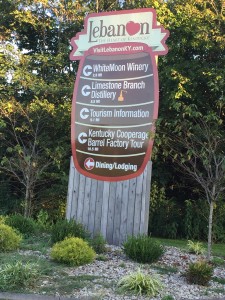 Ellie in Central KY
"Hi" she said as we walked into the winery, "I love your hat." That was the beginning of a great story.
She was the owner of the on-site winery.
She had a vineyard until 2010 when she said at fifty it was too hot working the vineyard in the heat. She said she was tired of being a deduction and decided to make wine. She started in her garage and her business grew into constructing a winery and tasting room. She and her husband found a buyer for the vineyard and the new owners now do the work and supply her with the majority of her grapes.
She taught herself the ins and outs of wine making and hired a chemist to help her develop the taste she wanted. The tour of the winery left no doubt she knew what she was doing.
The wine was good, she had local cheese and crackers, and some novelty wine products to sell.
She designed the labels, did the bottling, and opens every day. She even had a band playing on the grounds for guests to enjoy.
She was cheerful, grateful, and knowledgably – what else would a customer want? What a great example of rural woman power!