Wondering around Story Inn in Story, IN, population three, I happened upon a bar in the basement. The female bartender and a man and woman eating lunch at the bar were the only people in the room. We struck up a conversation and again an amazing story emerged…enjoy.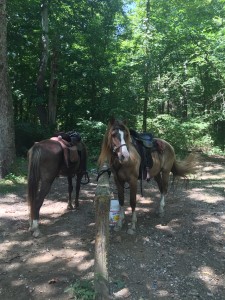 Darla in South Central IN
The woman at the counter said, "I see you must have rode-in on a  Harley." (I had on a Harley shirt…I explained we were on a Spyder) "We rode in on horses."
I asked, "Do they have horses to ride here?" "No they are our horses." "You must live close." "No, we drove about fifty miles." "Oh, you must board your horses here?" No, we brought them in a trailer." "You brought your horses in a trailer so you could ride them here?"
At that point, the bartender said, "She doesn't know much about Brown County Horse Camps." Everyone laughed because she was absolutely right; I had no idea.
"They are tied right outside, you can go see them. We come every year. We farm in Illinois and we like to bring our horses in for vacation."
I left with knowledge of how some farm families vacation: bring your horse, stay in a little cabin, and ride Brown County's riding trails. There are horse trail maps, each signifying the difficulty of the trail, similar to four-wheeling maps in Colorado.