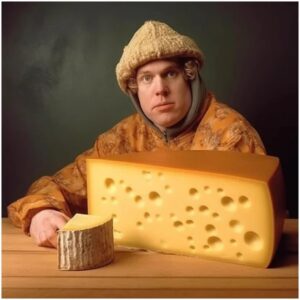 I went to a farmer's market this week, and the cheese guy was there. I had no cheese left in my fridge, so I approached his tent. A woman was checking out, and he said, "That will be one, twelve. I thought, whoa. After she paid with a hundred dollar bill, ten and two ones, it was my turn. I asked what this and this and this was. He told me, and I said I'd take a slice of each, including a bleu. He asked if I wanted small or medium. I said, "I guess medium." He dug in his ice chest and brought out a hunk less than two inches high and two inches wide—pie-shaped. He said this was between small and medium, and I said, "Great." Prices were not visible, and he didn't weigh the four hunks of cheese he put in a lunch-size brown paper bag. He handed it to me and said, "One, twelve." Alarmed, I asked, "One hundred and twelve dollars?" He smiled and nodded.
People stood in line behind me, and one woman said, "Evidently, she has not been here before." I should've, would've, could've said, "I am not paying $112.00 for four pieces of cheese and handed the bag back to him and walked away. But, instead, not to embarrass myself further, I paid him, turned, and walked away muttering. Did I mention I was angry?
I weighed the cheese when I got home and found I'd paid $7.00 an ounce—an ounce is about one square inch.
I tell you this story not because I want to divulge my naiveté or complain about the prices at farmer's markets but because what was done was done. It exemplifies how shifting my thoughts helped me turn anger (at myself and HIM) into learning and laughter.
I stomped around for a while and told Lucy all about it several times. I then rationalized $112.00 was less than eating out two or three times and tipping. I sampled what I bought, and Lucy and I admitted to its deliciousness. I also compared it to the price of shoes, gas, and taxes and told Lucy, "It wasn't so bad. This cheese was probably imported from France and is likely 40 years old."
I then decided it was the day's story and shared it with friends. It incited confirming shock, belly laughter, great conversation, and a reminder that I'm not the only one who does things they regret.
Changing my thoughts shifted feelings of anger to thankfulness. I'm thankful I didn't do another stupid thing all day.
Until the next time: Live while you live.
Powered by WPeMatico