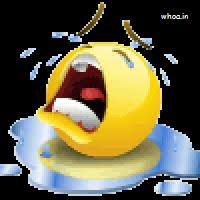 Since Lucy was in training, I took advantage of my freedom and signed on for a tour with people I had never met to an area I had never visited. I had a great time, met friendly people, and laughed often.
On the flight home, I was stuck in the middle, like always, and tried shrinking into my seat so the shoulders, elbows, and man sprawl on both sides of me didn't make contact. The one on my left had the air blasting on him, and I was freezing. The beverage napkin read: "In case of an emotional movie … dab eyes."
It made me think of life and the value of tears. Many people, me included, want life and all its complexities to be happy, joyful, and full of laughter and fun. Well, guess what, dear reader—it just isn't so.
I'm the first to praise the benefits of laughter and always ready to enjoy what comes my way, but sometimes, a good cry is in order. We don't cry enough. Two or three babies on my flight knew the benefit of crying. A relevant quote says, "God gives you tears to keep your heart from breaking." Tears also carry a significant element of anger. When you cry, ask, "What am I angry about? Tears help you find the answer."
Tears are magic; they help cleanse our eyes, bodies, and souls. When we have gunk running around in our heads and heart, we need a way to get it out of us–from the inside to the outside. Words work great, but sometimes we can't find the courage to say them, so tears rescue us. Exercise works great, but we can't always muster up the motivation, so again, tears rock. A tantrum is always possible, but tears work better since we are no longer toddlers.
Running into an open field, screaming at the top of your lungs, and then falling to your knees for a good cry is an effective recipe–it activates exercise, words, and tears, and it follows the two main rules for anger management–it doesn't hurt you or anyone else.
Life gives us good and evil, but usually, life gives us the middle of the road. In other words, life gives us overall balance. You might think the neighbor has a perfect life, but you are wrong; they might be on the upside of life while you feel broken. Like Colorado weather, things turn
around—be patient; it will change.
When life is good, enjoy it to the max. When your life turns upside-down, and your real-life movie gets emotional, dab your eyes. Tears are friends, and they are available whenever needed.
Until the next time: Live while you live.
Jennifer Goble, Ph.D., LPC, is the author of "My Clients…My Teachers," and the blogger and writer of Rural Women Stories: www.ruralwomenstories.com.
Powered by WPeMatico