Perfect is not possible – usually
What a beautiful Fourth of July…we rode the Can Am and enjoyed the wonderful Colorado Rockies. We stayed away from the crowds and watched the amazing Macy's fireworks display in NYC – in the comfort of our own sofa.
Perfect is not possible – but days like yesterday are close.
As a farm wife for 30 years, most Fourth of July holidays were spent in the harvest field. If the weather was just right we could see tiny colors from fireworks from a town thirty miles away. We would climb on a haystack or on top of a roof to get a better view.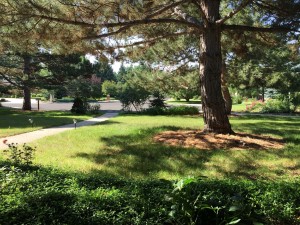 This morning I opened FB and saw a peaceful picture from my niece who was enjoying her front yard. Again, almost perfect. Country women are often too busy to sit and enjoy the beautiful yard they have worked so hard to maintain. Notice this one has no dandelions – a miracle for sure.
And of course there are objects of nature. They might actually hit my idea of perfect.
Sorry to say, as humans it is not possible to be perfect. We could strive for excellence, creativity, kindness, giving our best, contributing, staying positive, etc., but perfect isn't possible.
I will never write the perfect piece, have the perfect relationship, help every client I see, be a perfect parent, paint a perfect picture, etc. I (and you too) must give it up. Attempting to be perfect is a sure ticket to failure, self-deprivation, and sadness.
We need to remember to make our goals achievable and not expect perfection.
Begin July with one or one hundred goals, but keep expectations in line with reality, and strive for success – doing to do a little better than you did the last time.
Until the next time: Live while you live!