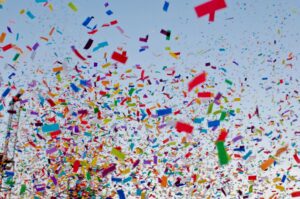 Graduation ceremonies are close to the top of my enjoyment list. Maybe because I've been there, but it is good for my heart to see teachers, staff, students, and parents work together to organize the gymnasium and ceremony, the speeches, slide show, music, awards, and presentation of diplomas. Impressive.
Watching friends and family support and cheer for their graduating person gives me moments of all is well with this world. Graduations are special days; memories of friends, preparation, ceremony, photos, etc., usually stay with us throughout life.
After graduation, I attended a multi-family party where the large room was packed with congratulations, visiting, and tons of laughter. The best part, I saw many friends I had not seen in a long while. For all-around good health, physical and mental, we may need more parties.
Documented in research is the value and importance of having warm and trusting relationships. Events like graduations, reunions, weddings, backyard barbecues, and even funerals connect and reconnect people—that's a good thing—a very good thing. People need people, and opportunities arise from events, whether organized or spontaneous.
A huge THANK YOU goes out to all the worker-bees in front and behind the scenes, providing a splendid setting for joy and celebration. Kudos to those who traveled miles to support, hug, visit, and laugh.
For years, I bought the tee shirt and race bib for the Bolder Boulder 10K run on Memorial Day. Talk about a significant organized event; that's a good one. Professional sports arenas might be too large to put in the same category as more intimate gatherings. Still, the energy emitted from people gathering together is similar and just as contagious. Even introverts who might be overwhelmed in crowds can feel renewed hope by simply being present.
Today, my thoughts are on the value of community and participation. This graduation weekend would have been less memorable had friends and family not chosen to turn off the TV, put their to-do lists aside, and care enough to get up, dress up, and show up.
I've had the good fortune of enjoying two grandchildren graduating, two graduation parties, a granddaughter's wedding shower, and State Track Meet—all in the past two weeks. I'm a bit tired, but always open to too many friends, too much food, and an abundance of joy and laughter. Oh, I can't forget the many hugs. We need twelve a day, and the weekend helped me stock up.
Get yourself out there for your wellness—people help you, and you help them right back.
Until the next time: Live while you live.
Jennifer Goble, Ph.D., LPC, is the author of "My Clients…My Teachers," and the blogger and writer of Rural Women Stories: www.ruralwomenstories.com.
Powered by WPeMatico