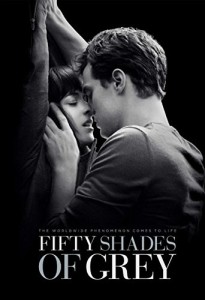 Final thoughts on Fifty Shades
As promised – I went to Fifty Shades of Grey. It was a little boring and seemed to drag on in time. I wanted to leave before it was over.
The actors, Jamie Dornan and Dakota Johnson, playing Christian and Anastasia were easy to connect and relate with. I enjoyed the book far more than the movie, but the story of a successful man falling in love with a young woman who ultimately changed his life was maintained.
The book had far more sex than the movie but Anastasia was presented in both as a strong woman with solid self-esteem. She had a clear voice, she did not do anything she didn't want or choose to do, and she did not lose herself to his money or power.  Her quest to challenge his unemotional safety net of not sleeping with her and not allowing her to touch him without permission, showed that she knew what a healthy relationship should be and that she was not going to settle for less. Also, when she asked and allowed him to show his most aggressive tactics and she did not like it – she was done – out. She said, "NO!" and she left. She did not give in to his persuasive advances.
I liked the strength of Anastasia. She was young and naïve, but had spunk and evaluated every event in the relationship.
Christian's childhood abuse was addressed along with the resulting emotional disconnect and lifestyle choices. His dominant – submissive practices were appropriately related back to his own experiences as a young teen; his mother's friend was the dominant and Christian was the submissive. Both of these elements of the story helped to portray the tragic consequences of childhood abuse. People need to know and remember abuse affects a person's entire life and that abuse happens to little boys too.
I allow everyone their own opinion, but I would give it a five. I liked the dynamics of the story, the sex was present but it did not match the erotica in the book, and the movie did not hold my interest – I found it boring and slow moving.
A sequel will likely not have the same box office hype. I do think it is a love story of modern times and I liked that Christian was respectful and that Anastasia was in control of her limits.
Also, I believe many women do ideally want what the movie portrays; a man, who has money, dotes over her, wants her sexually, buys her expensive gifts, and has a persona of mystery and intrigue.
I thought it was an old storyline with an old plot set in modern times. I wouldn't see it again, and I don't believe it will cause our young women to steer the wrong way when evaluating and choosing men.
It might even teach them how to be equal in a relationship and emphasize what they don't want.
Until the next time: Live while you live!