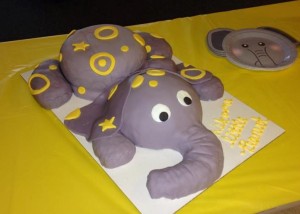 Celebrate the birth day-not the number
Like most things in life, family birthdays come in waves. My family had seven during the past two weeks. They ranged from a first birthday to "I ain't tellin."  None of them were mine, thank goodness, so I enjoyed sitting back and observing the similarities and differences between the birthdays that spanned a full life-cycle. The celebrations brought to mind what Francis Cardinal Spellman, former Archbishop of New York, said, "You've heard of the three ages of man – youth, age, and "you are looking wonderful."
For the one year old, his celebration was a mystery to him. He attacked his blue cookie monster cupcake with vengeance and enjoyed his cleanup bath in the kitchen sink. He favored gifts with wheels and was all about playing.
The four year old was a pro. She had limitless energy, and couldn't wait to open her beautifully wrapped gifts. She was all about being a princess.
Meeting friends at the bowling alley and having homemade chocolate mint ice-cream satisfied the nine year olds birthday wishes. He was all about hanging out with his buddies.
The pre-teen was excited about her swimming pool party with pink neon swirl, chocolate cupcakes. She planned it, prepared the invitations, and wrote thank-you notes when it was over. She was all about having a special day for her herself with her friends.
The thirty-something, enjoyed the laughter and razzing from friends. He was all about the party.
The other two, those past the joy of being another year older, didn't really care what they did. One was tired from a full day of work. After a quiet dinner he was all about going to bed.
The last one smiled with pleasure when the phone rang or pretty cards arrived that could be placed on her table for a month or more. She was all about being remembered.
Birthdays are significant. For the young they are exciting. For the middle-aged, a friend in that bracket said, "They are for being depressed for what has not been accomplished." For those of us who are way over-the-hill, birthdays are excuses to do exactly what we want – even if that means doing nothing.
No matter the age or birthday, celebrate and have fun! Laugh along with comedian Bobby Kelton, who said, "Why is a birthday cake the only food you can blow on and spit on and everybody rushes to get a piece?"
Until the next time: Live while you live!