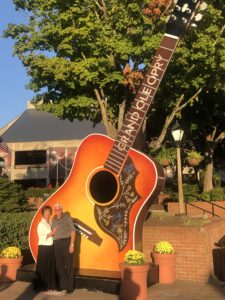 I'm writing this in Nashville, Tenn., while people-watching and enjoying my free Starbucks birthday pumpkin-spice-latte. Yes, it's my birthday. I'm relishing phone calls and Facebook wishes; it is a great morning. A friend suggested I compare past and present birthdays for my column. With a looming deadline, I took his suggestion.
What came to mind first was my mother, in her later years, apologized for only having one birthday party for me when I was a kid. Since I was one of five girls and their birthdays came in March, May, June, and July, I assumed, by October, she was tired of entertaining giggling girls. I don't remember the one party she referenced. I do recall some of my sister's parties with colorful napkins, Kool-Aid, and cake with frosting. Presents back then consisted of gifts from the Dime Store, which likely cost less than a quarter. We played games like Ring-Around-the-Rosie and Drop-the-Handkerchief.
When I turned 18, I was a freshman in college and could finally meet my friends at the local pub, drink beer, look at boys, and giggle. I don't remember 21 because I had a one- week-old baby son at home. When I was 25, everything changed; I had a baby girl on my birthday. From then on, my birthdays were unique, not forgotten, and a blessing. For the first 18 years of my daughter's life, we always had parties with friends and family. We had princess cakes, fancy dinners, picnics, trips, and lots of presents.
Today, my husband spoils me sweet on my birthdays, not with presents, but with decadent meals, travel to new places, and kindness. Going to the Grand Ole Opry at the old Ryman theater was my treat this year.
The most significant change I have noticed over the years has been the devaluation of the gift. I used to yearn under the anticipation of what might be in the wrapped packages with big bows. Today, I like to enjoy the people, places, and things I get to see or visit; giving or receiving presents has fallen to the near bottom of pleasures. My expectations are near zero, and I only strive to use the day for remembering, appreciating, and experiencing.
Maybe the word "gift" has changed. We used to wrap boxes and tie them with bows. Today, we place gifts in bags and cover the top with tissue paper, or we give gift cards and money. The birthday party seems more elaborate today. It has been a long time since I have attended a party with only cake, ice cream, Kool-Aid, and small, inexpensive gifts.
I'm not sure I did justice to my friend's suggestion, but it was fun to compare past and present birthdays. I'm thankful to have another year for memory making. When my husband quits working, I'm sure my birthdays will include less travel. But, for the moment, I agree with Minnie Pearl when she said, "At my age, it's a pleasure to be anywhere."
Until the next time: Live while you live.
Powered by WPeMatico