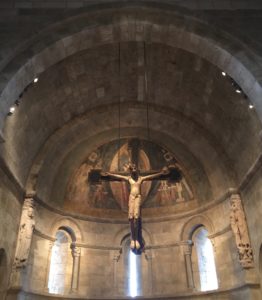 Before I left home in November, I bought a ten day NYC Pass. I am using it my last ten days.  I know the pass is overpriced, but I thought the pass would entice me see things I wouldn't ordinarily choose.
After Trina and Paisly had left, I found the uptown train and went to 190th Street to see the Cloisters, a first. I had never heard of them and did not know what a cloister was. I figured it had something to do with a monastery. It was one of the MET museums, so I knew it was worth the effort.
The area was eerie; next to the Hudson with green moss on trees, paths, and walls. I wandered around in what seemed like circles, following signs with arrows and the word Cloisters. I finally saw a sign with Museum. Whew. When I arrived, there were fewer guests than employees, and everyone whispered or said nothing.
A cloister, according to Google: a covered walk with a wall on one side and open space on the other.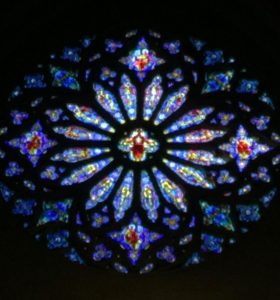 The museum originated from several French monasteries, shipped to America, stone by stone. John D. Rockefeller was the money and motivation behind the project. He wanted to house medieval art.
It was interesting; I was glad I went but was a little odd for this country girl.
I then went to the Cathedral of St. John the Devine, a first, built in 1892, and still under construction. It is the 4th largest Christian church in the world.
I ended my day visiting Zarbar's, a first, a gourmet market specializing in smoked fish, caviar, bagels, and anything a cook could desire. It was one of the only stores highlighted from the Freedom Tower observatory.
So, my day to far North Manhattan was fun, and of course, educational.
Day two, I went to Brooklyn, a first. I had a slow start, took the wrong train, but still saw the Brooklyn Museum and the Brooklyn Library; both beautiful. The quote: "Women have to be naked to get into the Met. Museum? Less than 4%of the artists, in the Modern Art sections are  women, but 76% of the nudes are females." They are working to change those stats, and I enjoyed seeing many female exhibits, especially the Dinner Party and Marilyn Minter.
I jumped on the wrong train again and had to walk back from Manhattan to see the Brooklyn Bridge at dusk. It was worth the hike in the frigid wind.
I hope to go back to Brooklyn to see what I missed. It has a quieter and fresher feel than Manhattan. The architecture of the buildings were more uniform and less ornate. The people seemed friendlier and less harried.
I treated myself to dinner with Chianti before taking the correct train home.
Two Months of Firsts – #20
Posted on January 7, 2017