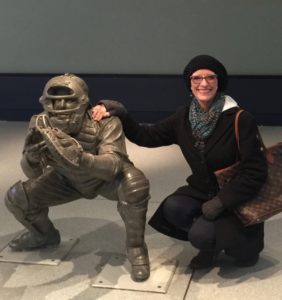 Today, day three, I went to the Bronx and Yankee Stadium, two firsts. I'm no baseball guru, but it was a thrill to come up from the subway and see the large stadium rising before me. I made it in time for a one-hour tour, and it was impressive. It opened in 2009,  the year they claimed the Series. The guard told me, with sad eyes, "We haven't won it since."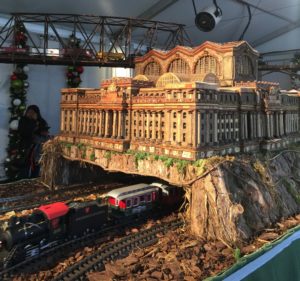 After the Yankees, I took another train and missed my stop for the NY Botanical Gardens. So, I stayed on the subway until it reached the end of it's run and walked across the platform to go back. I then had to get on the Bx26 bus. Seriously, who names busses Bx26? Sitting in the first seat, it was evident; I was the only token Caucasian. I was grateful they didn't demand me to sit in the back of the bus.
The NY Botanical Gardens, a first, featured a Holiday Train Show. It included more than a dozen model trains humming in and around 150 NY landmarks made entirely of plant parts. (Windows made from dried tree sap) I only stayed an hour as I didn't want to manipulate the bus and subway in the dark. It wasn't a premium time of year for gardens, but the train show, especially the small scale buildings, was something you had to see to believe. Many dozens of children, mesmerized by the trains, added to the delight.   
New York is like a mini world. I think every nationality is found here. Why travel abroad to experience various cultures, religions, or architecture? It is all right here in NYC.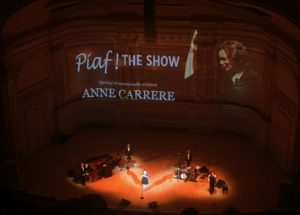 I am always asking someone a question because I seldom know where to go or how to get there. I am humbled by the men and women, no matter their ethnicity or age, who are kind beyond expectations. Today, I would never have found the Gardens or arrived back home without the help of many kind people; something I experience every day.
In the evening, I enjoyed Piaf at Carnegie Hall, a first. Anne Carrere exquisitely honored the hit songs of Parisian singer Edith Piaf.
I couldn't help but notice the lack of different ethnicities in the audience. I asked the woman next to me, "Who is going to fill this hall when all us old white people are gone?"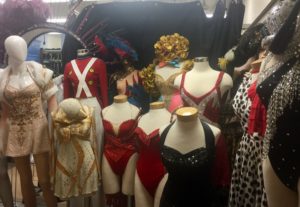 Day four of my NY Pass was freezing, blowing, and white. I opted to stay in the city instead of traveling to far away places. I started walking, and the streets were icy. Since I am fearful of falling, I successfully hailed a cab to Radio City Music Hall for a backstage tour, a first.
Rockefeller funded the building, and it opened in 1932. Designed in fluid art deco style, it was beautiful. I would recommend this tour for anyone.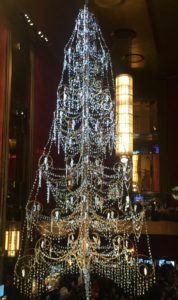 I learned how to create a space that quiets and calms large crowds; paint the walls dark and fill the room with diamonds. In the lower level, where there was once a subway entrance and lounge, walls were nearly black, the mirrors were pewter colored, and the pillars, rugs, and ceiling lights were diamond shaped.
I also learned the tree chandelier in the lobby during the Christmas Spectacular is owned by Swarovski. It had 10,000 crystals and took three days to hang and four days to disassemble.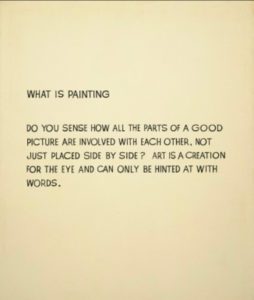 I ended my fourth day at the MoMA, (Museum of Modern Art) a first, as did every other tourist in NYC. I especially enjoyed the exhibits on the fourth-floor; a collection gallery with works exclusively from the 1960s. I relaxed with carrot ginger soup in the fifth-floor cafe.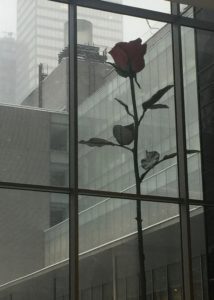 Walking home, unable to get a cab, was treacherous, but I did not fall, so it's all good.
Two Months of Firsts – #21
Posted on January 8, 2017