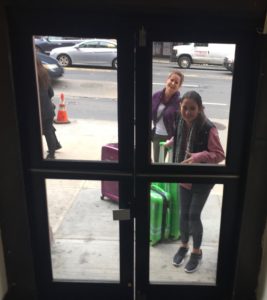 My daughter and granddaughter arrive today and my husband leaves tomorrow. Many change in experiences for the next week. I know we will run our best race to see all we can.
Cal and I have had a lovely time, even though he has had trouble with all the walking. He doesn't know if it is a muscle, ligament, or nerve, but it has slowed him down.
Even so, we walked to Little Italy two days ago, and spent a gift certificate we received from Cal's son and family to STRAND, a bookstore that advertises, "18 Miles of Books." They are not exaggerating.
Cal agreed, the Chocolate Martini at Max Brenner's is worth another visit. It is across the street from STRAND. Convenient:)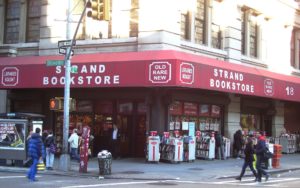 There was so much to choose from; Cal only found one book. I benefitted from the gift more than he did; I never have trouble spending money in a bookstore. I bought a signed copy of Swing Time, by Sadie Smith, the author whose reading I attended at 92Y. I also found a signed copy of  "Worlds Greatest Bookstores," by Bob Eckstein who is a New York illustrator, writer, and cartoonist. He gathered stories from seventy-five bookstores from around the world and paired them with colorful illustrations of each.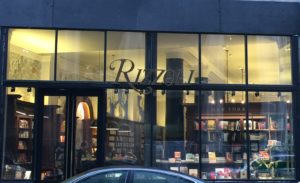 Cal chose a book written by Donald J. Trump, "The Art of the Deal."
I love bookstores, and now I have been in three of New York's finest: Argosy, Rizzoli, (featured in the movie, Falling in Love with Meryl Streep) and Strand. Each was a thrill to visit.
We also went to the "Cube" Apple store on 5th to get some questions answered. We learned they are the only Apple store in the world open 24/7. They have approximately 1000 employees.
We always eat well when Cal visits, he likes fine food. We have had Ravioli in Little Italy, Greek Prix Fixe, a good ole hamburger at Rue 57, Ivanka salad at Trump Tower, and delectable appetizers at Red 58. I need to diet when he leaves.
I will try to blog while I am playing with Trina and Paisly, but no promises. Send us safety as we go to Time Square on the 31st to see the ball drop.
Two Months of Firsts – #18
Posted on December 28, 2016