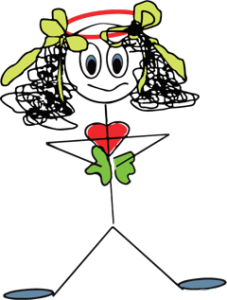 My sister's doctor said to her, "You have gone through chemotherapy, hospitalization, and nasty medications in order to live, so go live!"
So go live! What great advice. Three words we should all live by even if we haven't had a life-threatening diagnosis. I've never understood why we need a catastrophic event in order to get our lives and priorities in order. Sadly, it is common.
I hear stories all the time about a cancer diagnosis, a heart attack, and diabetes test results, being a wake-up call for change.
Change is hard, and a little motivation helps jumpstart action. For example, we are having a small social event in a week, so we scrambled to have a garage sale, freshened up the bathroom with new towels, replaced old light bulbs, and brightened up the patio. It took company coming to even notice the obvious.
We are like a bottle rocket waiting to be lit. We veg out, lazy around, until someone or something hits us in the back of the head. Then we detonate like a flame under the firecracker.
I think my sister's doctor was telling her to stop worrying and try to live normally, and to have fun, and enjoy life. Nothing complex, just simple, normal activities.
I agree. Maximizing life does not need to be all consuming, expensive, or extraordinary. Memorable living includes doing what you enjoy and want to accomplish, within healthy boundaries of your limits, every day. It also includes downtime; the value of rest and relaxation is underestimated.
Don't wait until a hammer falls on your head and your world is turned upside down, today start doing what lights your fire with people who love and support you. If depression or anxiety is holding you back, make a phone call and get some help.
If lack of money is the excuse, get another job – even a little extra money helps. If you are not feeling well, go to a doctor and see what is going on. If you are at odds with someone you care about, have a conversation – say the words.
Whatever you determine the problem to be, think of a solution or two and make it happen. Life is too long to wait, and can become too short if you procrastinate.
So, go live!
Until the next time: Live while you live!
(Jennifer Goble, Ph.D., LPC, is the author of My Clients…My Teachers, and the blogger and encourager of Rural Women Stories: www.ruralwomenstories.com.)
The post Life is too short to procrastinate appeared first on South Platte Sentinel.
Powered by WPeMatico