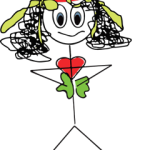 Last Thursday, I tied a sweatshirt around my waist, grabbed my backpack and headed downtown to the Farmer's Market.
I made sure I had my phone and Bluetooth, and sketchbook. I headed out the door for a great afternoon in Estes.
I walked to the end of the road, and it started to sprinkle. I looked at the sky, moaned, grumbled, and turned around and went back home.
How many times in life do we plan to do one thing, and something not in our control happens, and we need to shift our goals?
Or, like the situation I just described, how many times do we execute an outside activity without listening to the weather or looking up to the obvious?
I'm guilty, and I'm sure you are too.
My example had an easy solution, I simply got out of the rain and found something to do in the house. Many glitches in our best-laid plans are harder to embrace.
Imagine the student who studies, graduates, and then must pass national and/or state exams, and they fail the test, again. Then what?
Think about the well deserved, planned, and paid for vacation, and you become ill or have a death in the family. Then what?
What if the wedding is next Saturday and the reception venue closes because of back taxes? Then what?
Life happens, and we are called upon to anchor our feet and regroup our options if "Plan A" falls through.
People who have no "Plan "B," often experience anxiety, often as severe as someone who has Generalized Anxiety Disorder, GAD.
Individuals who have a "Plan B," just in case, but continue forward to anticipate the joys of "Plan A," will lead a more mentally healthy life.
We need to practice how to make the best of events not in our control. Remember, we DO have the ability to start over with new ideas and refreshed determination. Like my afternoon downpour, I appreciated the moisture and the unplanned time to write this column.
As always, I read the article to my husband for critique and asked him to summarize my message. He said, "Just because something doesn't go our way, doesn't mean we jump off the cliff."
Well said. Mission accomplished.
Until the next time: Live while you live!
(Jennifer Goble, Ph.D., LPC, is the author of My Clients…My Teachers, and the blogger and encourager of Rural Women Stories: www.ruralwomenstories.com.)
The post A 'Plan B' can alleviate anxiety appeared first on South Platte Sentinel.
Powered by WPeMatico