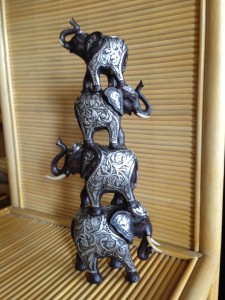 Team Up For Success
Second of four articles from the American Counseling Association – Honoring April: Counseling Awareness Month
Yes, it can be hard to try to lose weight, exercise more or make other lifestyle changes for better health.
But a recent study out of England has shown that the odds for success increased dramatically when you make changes for a healthier you with a partner.
Researchers followed couples for four years and found that when one person lost weight, his or her partner was three times more likely to do the same, as compared to those couples where only one person was trying to drop excess pounds.
The study wasn't limited to just weight loss. In looking at other lifestyle changes, such as exercising more or stopping smoking, the success rate increased significantly when both partners were shooting for that shared goal. They found that when two people are working together towards a goal they both want, they tend to inspire and encourage each other.
Another factor in the higher levels of success was that each of the people tends to hold the other accountable. It's not as easy to eat that extra dessert, or sneak a cigarette, when you know your partner will be disappointed should he or she discover you're cheating on the goal that you both desire.
Teaming up to work toward a healthier life doesn't have to be with just a husband or wife, though usually, if you 'remarried, that would often be the partner you turn to. But if you're single, or your spouse isn't interested, researchers found that teaming up with friends, family or co-workers produced the same positive effect.
It isn't a difficult process to make happen. If your goal is to shape up, sit down with your partner and discuss what each of you desire and how you could work together to achieve it. You might start with a commitment to eat more healthfully and to exercise together.
When it's a common goal, it's much easier to plan for a healthy meal or schedule a brisk walk after work or after dinner. A partner can also be great support when you hit those bumps that can slow down reaching that healthier goal. With a partner to work with and with each encouraging the other, you're more likely to get past those hurdles rather than give up the effort.
So if you're looking to make changes for a healthier you, don't go it alone. Try working with a partner.
"Counseling Corner" is provided by the American Counseling Association. Comments and questions to ACA corner@counseling.org or visit the ACA website at www.counseling.org
Until the next time: Live while you live