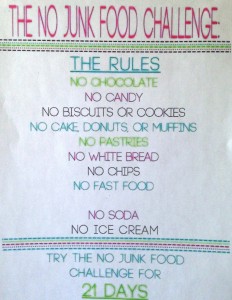 The No Junk Food Challenge
Many things come to our computers that are amusing, informative, or useless. Most of mine are deleted without reading, some are read before deleting, and a few are useful and saved. Such is the case with 'The No Junk Food Challenge' that arrived after Christmas. It looked like this:
THE RULES
NO CHOCOLATE
NO CANDY
NO BISCUITS OR COOKIES
NO CAKE, DONUTS, OR MUFFINS
NO PASTSRIES
NO WHITE BREAD
NO CHIPS
NO FAST FOOD
NO SODA
NO ICE CREAM
TRY THE NO JUNK FOOD CHALLENGE FOR 21 DAYS
Since I was feeling like an overstuffed walrus, I thought, "I'm in!"
Mental health is possible with poor physical health; evidenced by chronically ill individuals who continue to see the best of life. But, there is a significant correlation between our physical and mental health. We are a waistline growing nation and choosing to eat food on the above junk food list is one of the primary culprits. Rural women like myself, even though we are in the heart of farming and ranching, also struggle with making healthy food choices.
We can all cut these foods out of our diet for 21 days. We can do it! The reward could be that we dislike ourselves less – feel better – lose a few pounds – improve both our physical and mental health.
Fat, sugar, and salt make food taste good, which is WHY fast food activates our taste buds and WHY we crave it. It is similar to an addiction; eating a little triggers one to want more and more.
Emergency rooms are inundated with large waistlines. From the very rich to the very poor, people can be overweight because of their junk food choices. Junk food is easier, overly available, and often less expensive. It is a personal, family, community, and national problem.
Yes, we can make a difference. Good health begins with the person in the mirror. We have 100% control of what we choose to eat. That, my friends, is the good news!
The 'No Junk Food Challenge' is simple and doesn't take a lot of thought; if something is on the list, don't eat it. I'm in, and you can be too.
At the end of 21 days, ask yourself if you feel healthier. If the answer is, "Yes," go another 21 days. Imagine the personal and collective benefit!
Until the next time: Live while you live